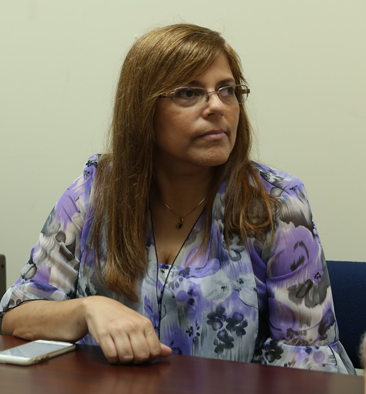 Message from the Chairperson,
Welcome to the Department of Mathematics at the University of Puerto Rico, Río Piedras Campus!
The Department of Mathematics at the University of Puerto Rico, Río Piedras Campus (UPR-RP) has programs leading to the degrees of Doctor of Philosophy (Ph.D.) in Mathematics, Master of Science (M.S.) in Mathematics and Bachelor of Science (B.S.) in Mathematics.
The areas of emphasis in the Bachelor and Ph.D. Programs are:
Pure Mathematics
Discrete Mathematics
Computational Mathematics and Statistics
The areas of emphasis in the Master of Science are:
Pure Mathematics
Applied Mathematics
Currently, UPR-RP is the only institution of higher education in Puerto Rico that offers a Ph.D. degree in Mathematics. Also, UPR-RP is the only institution on the island classified as R2: Doctoral University – Higher Research Activity by the Carnegie Classification of Institutions of Higher Education.
UPR-RP is the largest campus in terms of student population of the University of Puerto Rico System. It is also Puerto Rico's first public university. As its name suggests, UPR-RP is located in Río Piedras, a neighborhood of the city of San Juan, Puerto Rico. This makes UPR-RP a natural Hispanic-Serving Institution. In fact, UPR-RP is one of the leading institutions (nationwide) awarding PhD's to Hispanic and Latino students.
The department offers an excellent environment to study and research mathematics. Our students are actively engaged in undergraduate and graduate research. A good number of our undergraduate students participates in Research Experiences for Undergraduates across the nation and many of them present their research results in mathematical meetings and conferences at the local and national level.
At the graduate level, our students can conduct research in one of the multiple areas of research that our faculty members engage. Some of these areas include functional analysis, classification of C*-algebras, non-commutative geometry, semigroups of operators, partial differential equations and potential theory, graph theory, combinatorics, coding theory, finite geometries, aspects of number theory, information theory, Bayesian statistics, biostatistics, numerical analysis, stochastic differential equations, mathematical modeling, mathematical biology, among others. Students accepted in the graduate program can receive financial aid in the form of teaching assistantships, research assistantships, and fellowships. In addition, the university provides funds to support students' participation in meetings, workshops, and short courses.
I invite you to explore our website to learn more about our programs and about the research that is being conducted by our faculty members. And of course, if you happen to be in Puerto Rico, please come by to say hello.

Dr. María E. Pérez,
Chairwoman